Hootsuite users, welcome! We've built a seamless integration with Hootsuite to allow users to send posts from their Hootsuite streams to TINT, and also send user rights approved images from TINT into Hootsuite's media library. The power of monitoring and displaying social content is consolidated into one workflow so you can focus on making deeper relationships within your community.
Sending Images from TINT to the Hootsuite Media Library
1) To get started sending images from TINT to Hoosuite to be used in your social posts, head over to the Marketing Integrations tab in your TINT dashboard:
2) Click on "Add Integration" and you will be prompted to Install the app. Click on "Install" in the popup modal, and then "Install" again inside Hootsuite: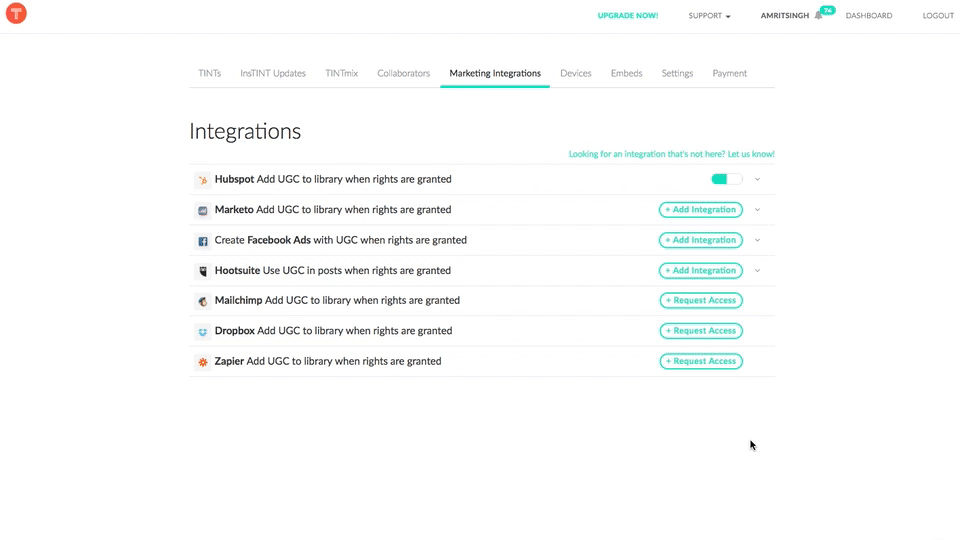 3) Then, click on "Publisher" from the left-hand panel and open the Hootsuite Composer:
4) Next, open the Media Library:
5) Click on the drop-down menu and select the TINT media source to find all your user rights approved images, ready to be used in your social media marketing!
6) To learn more about how to use our UGC Rights feature to collect user-generated content and obtain rights to your community content, check out our support article on UGC Rights. 
Sending Posts from Hootsuite to TINT
Please view this introductory video, or read the Step-By-Step Instructions below: 
1) Log in to your paid account at www.tintup.com.
2) Log in at www.hootsuite.com. Then, hover over the left-hand sidebar. Click the puzzle icon to launch the App Directory:
3) Search for TINT, click "Install App", and then click "Finish":

4) Send a post to TINT. From the Streams view, click the kabob icon (vertical ellipsis) on the bottom of a post, and then select "Send to Tint App":
5) Select the TINT. You will be prompted to select which TINT(s) you want your post sent to. Simply select the TINT(s) you want and click "SEND":
6) The post will automatically be imported to your TINT as a Public Post. A Hootsuite connection will also appear under the CONTENT YOU'VE ADDED section in the left-hand sidebar:
Notes 
Only

Facebook, Instagram,

and

Twitter

content from Hootsuite can be sent into TINT (Hootsuite limitation).

Each time you publish content to a TINT, it

creates a new Hootsuite connection

on the TINT. This counts as one feed, just like any other connection.

 

The integration is only supported on

paid subscriptions

(Starter, Performance, Enterprise).
If you have any questions regarding our Hootsuite integration please feel free to email our Happiness Team at sales@tintup.com.