Social media is just one part of your overall content marketing strategy. TINTmix gives you the power to combine TINT with other digital assets (images, videos, URLs) all in one display. The ability to mix in advertising, sponsorships, and other content makes TINTMix one of the world's first Dynamic Content Management Solutions (DCMS).
Here's a few examples of TINTmix utilizing several digital assets at once: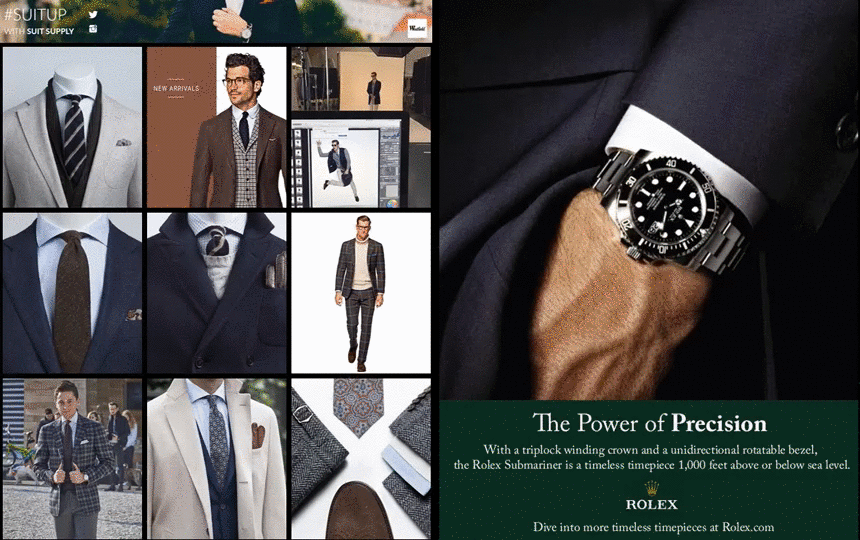 Click here to view the full TINTmix live on your own screen.
If you're new to TINTmix please check out this feature video. For a full overview of TINTmix and Step-By-Step Instructions please read below:
TINTmix Overview
There are three major elements of TINTmix that you'll want to be familiar with before starting:
1. Layouts - Each Scene you create has a fixed Layout. There are four types of Layouts to choose from:
Fullscreen
Horizontal split-screen
Vertical split-screen
3 Zone - 4 options split in 3 content areas
2. Scenes - A Scene is comprised of individual elements called Items
3. Items - Items are elements that are added to Scenes. Items can be:
TINTs
Websites (URLs)
Images
Videos
Youtube Videos
Step-By-Step Instructions
*In order to optimize performance of TINTmix, there is a limit to the number of images, media, and TINTs that can be added to a mix.
Choose a Layout. We'll select Vertical split-screen now:
After selecting a Layout you can start building your first Scene. When building a Scene the Layout you selected is visible on the left-hand side of the screen, and for split-screen orientations, the Scene is divided between two elements. For this example you'll notice separate Left and Right sections: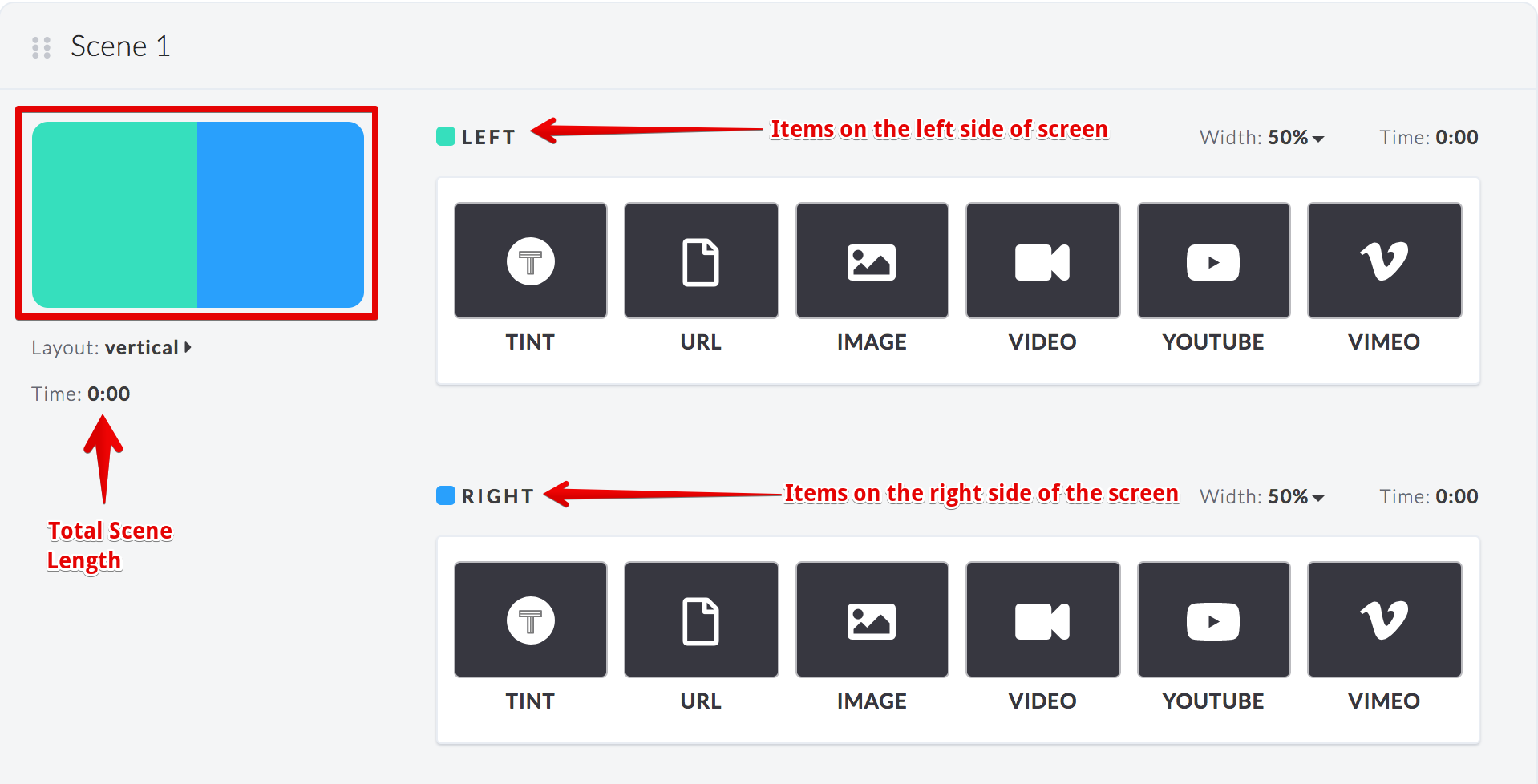 Now we can start adding Items to the Scene. To add Items simply click the grey buttons under LEFT and RIGHT. We'll add a TINT in the LEFT section, and we'll add an image, a YouTube video, and a website (URL) to the RIGHT section:
Now that we have Items added to our Scene we can make final adjustments. You can adjust the Width of each side of the Layout (or Height for horizontal split-screen), and also the length of time that each Item is displayed. By default videos will play to the end of video, but in this instance we'll reduce the time the video is displayed to 30 seconds, and increase the other elements on the RIght side to display for 15 seconds each. On the Left side of the Layout we'll make the TINT display for 60 seconds: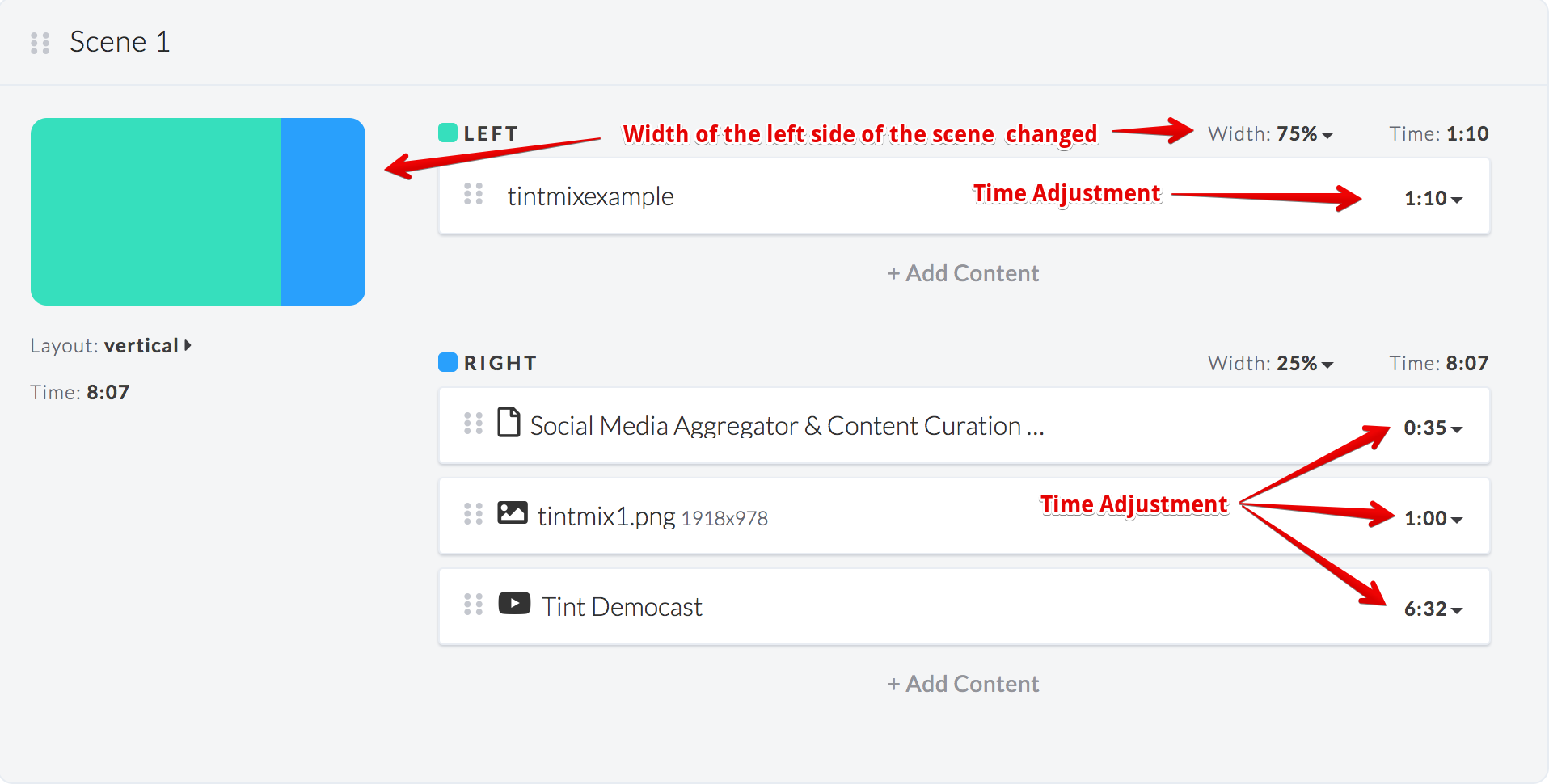 Those are all of the basics of TINTmix! There are a few other actions you can take like Editing an Item (pencil icon), Viewing an Item (eye icon), and Deleting an Item (trashcan icon). You can view these by hovering over the right-hand side of a specific Item:
Additionally, you can re-order any Item or Scene by clicking the left-hand side of an element near the small square icons. Simply drag and drop to re-order your Items and Scenes!

Displaying TINTmix
When you're ready for your TINTmix to be viewed click "Display" on the upper right-hand side of the screen, and then "View in New Tab". A new browser tab will open. The URL you see on this tab will be a static URL that you can share with others.
If you're using Chromecast you can click "Display", and then "Cast to Chromecast". For more on Chromecast click here.
If you have any questions or concerns please don't hesitate to contact Technical Support at support@tintup.com.