Slack community, welcome! Now you and your team can send shared content from any of your company's Slack channels directly into your TINT. Increase employee advocacy and engagement in a social and simple way!
Step-By-Step Instructions:
1) In the CONTENT panel of the TINT Editor, click the "More Networks" button, and then click on the Slack icon: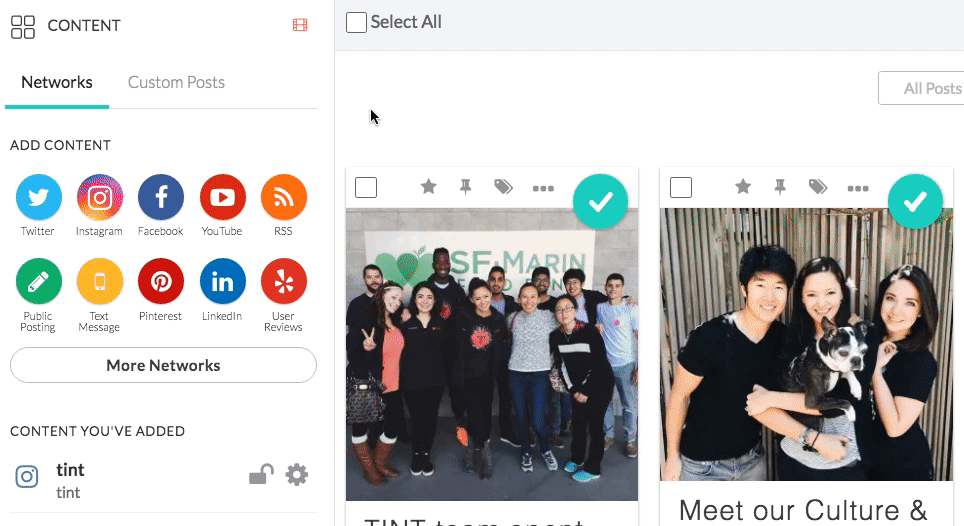 2) Click "Authorize Slack" and follow the authentication process. Afterwards, select the Slack Channel that you'd like to pull content from, and enter a Keyword that you'd like to use to pull in content. Choose whether or not you'd like to manually approve posts before making them public, and then click "Connect Slack Channel":
3) In the Slack channel you connected, create messages with the keyword you selected (e.g. #tint, #mybrand). Any uploaded file (e.g. text, image, GIF, or video) that contains the keyword in the Title or Add Comment field will be added to your TINT. Additionally, any message that contains the keyword will be added as a text-only post on your TINT:
You can then display your TINT on any in-office display screen, an internal website, or any other number of places. Encourage your team to join in and start sharing content from your new Slack implementation!
Important Notes:
Messaging in your Slack Channel

must

be accompanied with your selected Keyword to be pulled into the TINT

Every Slack Channel you connect counts as one social connection/feed - just like any other connection

If you have Moderation enabled for the Slack Channel connection you can easily moderate by clicking the Slack icon in the TINT Editor
This integration is available on all TINT plans
If you have any questions regarding our Slack integration please don't hesitate to contact Technical Support at support@tintup.com.