After Creating a TINT and Adding Content it's time for you to choose how you'd like all of that content to appear. TINT allows you to style your display through the use of any number of pre-built themes. Then, make further adjustments to items like background color, font, font size, and more! You may even apply your own CSS styles.
To begin, simply select the Personalize panel on the left-hand side of the page:
---
Themes
There are a number of pre-built themes available for you to choose from. For web implementations choose from any of our Web & Display Themes:
Classic

Testimonials

Artsy

Square Photo (no text posts)

News

Grid

Tall Photo (no text posts)
If you are running a live event, or showing TINT on a display screen, one popular option is to Enable Auto Scroll. This setting will make your posts scroll upwards, ensuring that more content is shown without the need for any user actions or input:
By hovering over the upper right-hand side of the page, or pressing the space bar, you can control the Scroll Speed:
With Auto Scroll enabled, another popular option for displays and events is Periodically Highlight Posts. This allows a specific post to be highlighted in a popup at intervals that you can set: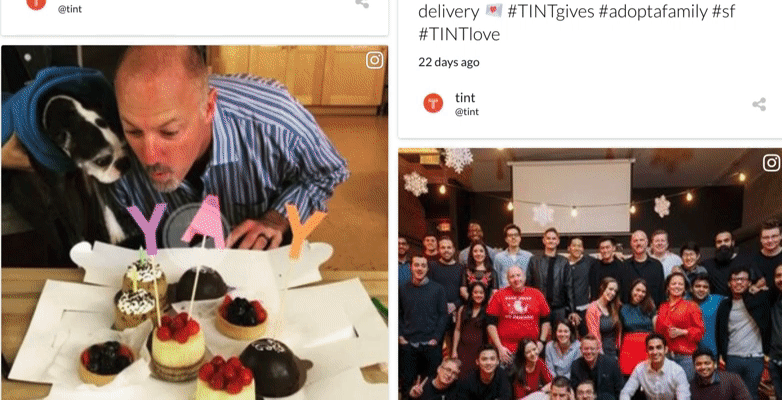 With Periodically Highlight Posts enabled, you can configure a Highlight Transition Speed (the interval between posts) and a Post Highlight Duration (the amount of time the post is displayed):
In additional to using Auto Scroll for live events and signage, there is an entire set of Display Themes to choose from:
Last, but not least, is the Custom CSS tool. This enables you to make all sorts of customizations  personalize the appearance of your TINT through the use of your own CSS rules:

For more on using the Custom CSS tool click here.
---
BG
Clicking on the BG tab allows you to modify the Background Color of your TINT:
You can also upload your own Background Image and Banner. When creating these images always think about where your TINT will ultimately be displayed. For example, if you're showing your TINT on a display screen with a native resolution of 1920px x 1080px, it makes sense to upload a Background Image with the same resolution.
For a Banner, the most important consideration is the width to height ratio. A good guideline for most applications is making sure that the width of the image is at least 5 times larger than the height of the image.
---
Fonts Style
Some themes have theme-specific controls, but for most themes, you can select a Font, Font Color, and Font Size. If you're not satisfied with our available fonts, you can also select a Google webfont, or, upload your own. For more information on uploading fonts and Google webfonts click here.
You may also select an Accent Color. The Accent Color modifies different attributes on the TINT depending on the Theme that you've selected. Generally, it changes the color of items like share icons and links:
Hashtag Highlight Color allows you to color hashtags that were used when creating a connection. This is helpful for creating a clear hashtag that your audience knows to use, as some posts may contain multiple hashtags:

Image Effect allows you to apply a photo filter on all of your images:

---
Popup
For themes with Periodically Highlight Posts enabled, or any Display Theme with a popup, you can change the appearance through a number of additional controls:
Font / Font Color / Author Font Color / Author Username Font Color / Link Font Color / Connected Hashtag Highlight / Background Color / Image Background Color / Lightbox Background Color
There are also toggle controls that allow you to choose whether or not you'd like to Show Author Name, Show Author Username, and Show Timestamp.
You can also change the size of the popup by clicking the Small, Normal, Large buttons.
Finally, if you want further customization, the Popup has it's own CSS tool.
---
CTA
The CTA tab allows you to bulk create a Call To Action button on posts belonging to a specific feed/connection. For more information on CTAs click here.
---
Extra
The Extra Tab contains additional elements that you can use to further style your TINT. These controls vary from theme to theme, but most themes contain the following controls:
Toggling Show Text Posts off will remove all posts that don't contain an image. Unchecking Show Share Icons will remove the universal share icon from all posts. Toggling Show Post Author off will remove the author names and author profile images associated with posts. All of these actions are non-destructive, meaning that you can re-enable them at any time without losing any data.
Other items found in the Extra tab include Enable Auto-Update. This option is on by default and is required to receive new posts when "sitting" on a page. You may turn this option off if you have a web implementation where you don't need new updates while users are viewing a page - but you'll always want to leave this on for events or displays:

Selecting Remove Duplicate Images will identify instances of repeat images on your TINT and remove them. For more information click here.
If you are operating internationally you'll definitely want to check out our Language for Post Timestamp setting; simply select a language from a dropdown menu, and all of the timestamps on your posts will be displayed in the desired language.
You also have the ability to set a Minimum Post Width for your posts. Adjusting Post Spacing changes the padding between every post.
---
Multiple Personalization Feature
A more advanced feature of the Personalize section is the Multiple Personalization Feature (MPF). This feature allows you to create different "skins", or customizations, of the same TINT. For more information click here.
If you have any questions regarding using the Personalize section to customize your TINT please don't hesitate to let us know at support@tintup.com.