You can add a custom Banner Image to any TINT. When uploading a Banner the most important consideration is the width to height ratio. Make sure that the width of the image is at least 5 times larger than the height of the image. Creating a banner image that is too high, or has a smaller width to height ratio, can force TINT content off of your display/embed.
Uploading a Banner Image
In the TINT Editor click PERSONALIZE on the left-hand menu, and then click the "BG" tab. Afterwards, click "Upload" underneath BANNER: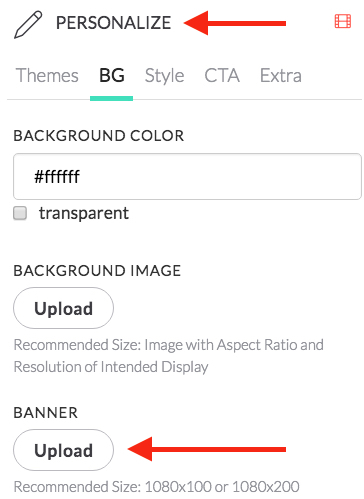 This will launch a pop-up dialog box where you can upload your banner image. Make sure that you don't have pop-ups disabled or are blocking javascript from running as this will prevent the dialog box from launching. Simply drag and drop your image, or click "Choose File" to select one from your computer:
After you've uploaded your image it will display on the top of your TINT:
Usage Cases
Nonprofits selling sponsorship opportunities at your event using TINT and a custom sponsor banner on a TINT Display.

Agencies providing clients with an all-inclusive white-labeled TINT that features custom branding via a banner image.

Advertisers selling ad space above social media displays at retail venues (bars, hotels, transit hubs, etc.)
If you run into any issues uploading a Banner image don't hesitate to contact Technical Support at support@tintup.com.