Once you've added at least one content source, and have finished personalizing your TINT, it's time to generate the embed code for your website. You can easily generate the code by logging in to www.tintup.com and taking the following steps:
Generating Embed code through the TINT Dashboard
1) From the TINT Dashboard select "Display" for the TINT that you'd like to embed:
2) In the next screen, select "Web Embed":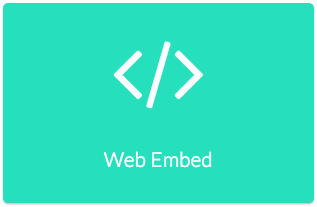 3) If you are using our Multiple Personalization Feature, select which personalization you wish to embed. Also select the Width and Height of your TINT embed: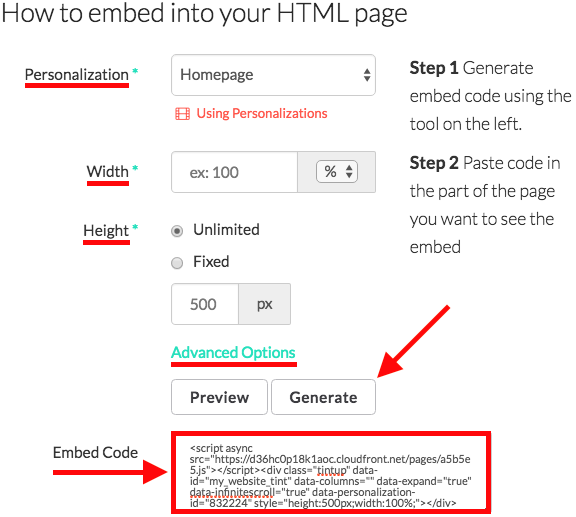 If you'd like to further personalize your TINT embed click "Advanced Options" before generating your embed code. There you may select a Display Type (Infinite Scroll, Click For More, Page by Page), a Default Keyword, a Default Network, the # of Columns, # of Posts per Page.
Infinite Scroll is the default TINT Display Type (content loads automatically as users scroll down on the feed). Click For More creates a button that users need to click before more content loads on your page. Page by Page is similar to Click For More except that you can also set a maximum # of Posts per Page. For more information on advanced Display Types click here.
Selecting a Default Network allows you to display content from a specific social network by default - rather than the typical aggregated TINT feed that displays all of your connected accounts. For more information click here.
Selecting a Default Keyword will allow you to only display posts that you have added a Tag to in the CONTENT panel of the TINT Editor. For more information on Keyword Filtering please click here.
5) After making your selections click "Generate" to view your embed code. Copy and paste the embed code into your HTML page.
Generating Embed code through the TINT Editor
You can also generate embed code directly through the TINT Editor by clicking "Display" in the bottom left-hand side of the page:
Follow the steps outlined above once you reach the next step.
Important Notes
The entire TINT embed code must be added directly to the HTML of the page where you'd like the TINT displayed. Appending the TINT embed code to a page, whether through a minified JS file, or other include method, is not supported at this time.
Adding a TINT to a page using an <iframe> is also not supported. While the TINT will load in an iframe using this method, functionality within the TINT is degraded. Key components such as links and popups will not function. Additionally, features such as Analytics may not track properly.
If you run into any issues embedding your TINT please don't hesitate to contact Technical Support at support@tintup.com.