Our UGC Rights feature allows you to get the legal rights to any UGC (user-generated content) with just a few clicks! After rights are granted by the post author you can download the image directly within TINT.
Turn the world of UGC into your own marketing collateral by obtaining the legal rights to beautiful, authentic images of your brand - minutes after they are posted to social media.
Details
UGC Rights is a standard feature for all Performance

and

Enterprise

customers. If you're interested in using UGC Rights, but aren't on one of these plans, please contact 

sales@tintup.com.
Currently, UGC Rights is only available with Instagram, Twitter and Facebook
Performance Plan is restricted to 100 requests per month. Enterprise Plan has no restriction.
---
Sending a Rights Request as a Comment
As of April 4th, 2018 Instagram no longer allows automatic public commenting through their API so comments must be posted manually through Instagram.com (please ensure your popup blocker is disabled).
Our UGC Rights feature generates a message that you can post publicly on the user's post. 
Video Walkthrough
TINT Rights Requests with Links from TINT on Vimeo.
Take the following steps to get started requesting rights through our link:
1) Within the TINT Editor click the Content panel. Find the post photo you'd like to request rights for, and click the Get Rights icon above the post:
2) Complete the Custom Message section. Then, Add a Custom Message for requesting rights. Alternatively, use the Generate Message button to have a message automatically generated for you: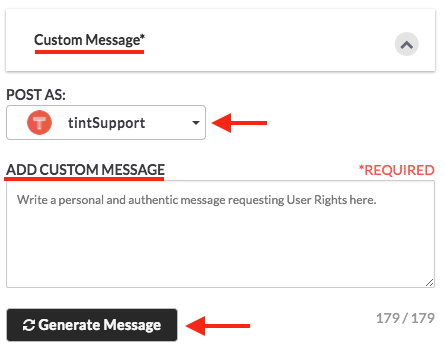 3) Click on Approval Hashtag & Required Text and select an approval hashtag: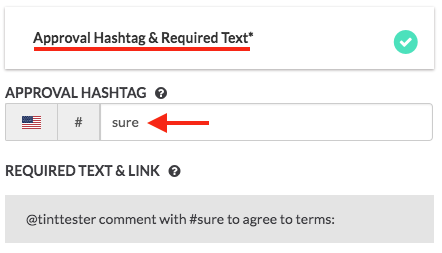 4) Click on Terms & Conditions. Add your own terms and conditions, or click View Sample Terms to view our default terms. After making changes you can also select Preview to view how the Terms & Conditions will appear:
5) Click on Brand Logo. Upload a brand logo that will appear on the top of your Terms & Conditions page: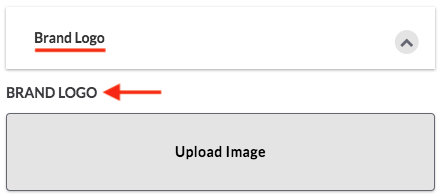 6) At the bottom of the popup, select the Next button
7) For Instagram or Facebook, a link will be automatically added to your clipboard and the Instagram or Facebook post will automatically open as long as your popup blocker is disabled. From there, you will need to paste the comment directly on the post.
If you lose the link that is generated, don't worry! You can recover it at any time by clicking the More Options button (...) above the post, and then selecting Get UGC Link:
For Twitter, comments can be sent from TINT to the Tweet automatically. As such, all you need to do is select the Next button and you're all set!
---
Viewing UGC Rights Posts 
All posts that you you have requested rights for can be retrieved using the Filter Bar. Within the CONTENT panel, select More Filters on the upper right-hand side of the page:

Then, select any of the UGC Rights statuses - Rights Requested, Rights Approved, Rights Expired, or Rights Error:
---
Status Glossary:
Rights Approved - Indicates that rights have been granted by the original post author via the approval hashtag used in the request.
Rights Requested - Indicates that a comment has successfully posted to Instagram or Twitter requesting rights.
Rights Pending - Indicates that a request is scheduled to be sent, but has not yet been posted in order to avoid rate limiting. These posts will appear when filtering by Rights Requested.
Rights Expired - Indicates that the request was posted, but 21 days has elapsed. After 21 Days you may resend the request. Doing so will delete the original request comment automatically on Instagram. On Twitter, the original request comment will remain.
Other statuses that indicate a problem with the UGC Rights request are:
Rights Error - Indicates that the request was not sent.
Token Error - Indicates that the request was not sent due to an access token problem
If you see either of these error statuses, please reference our support article on Troubleshooting Rights Requests.
---
Using Approved Posts
You may download any image for a post that has cleared the UGC Rights request process. You may also use any of our Marketing Integrations to push this content to your own marketing collateral.
To download the image select the More Options button (...) above the post and then select Download Image: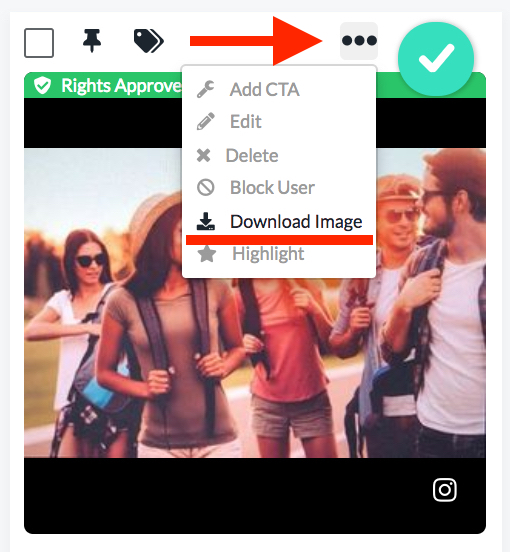 If you have any questions regarding our UGC Rights feature, or encounter any issues while using the feature, please contact Technical Support at support@tintup.com.