A Collaborator account is a type of user account that can be set up to have specific access privileges. If you work for a large organization you might want to get a few more team members involved in the creation, personalization, and moderation, of your TINTs.
Adding a Collaborator Account
1) To get started select Collaborators from the Dashboards dropdown: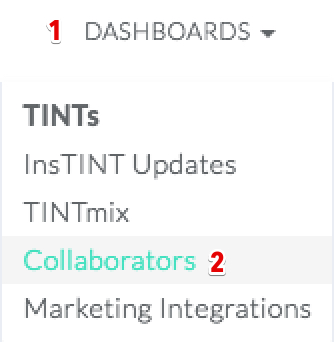 2) Then, click Add a Collaborator:

3) Enter the desired Email Address for the new Collaborator account. Then, select the Permissions you wish to grant the user (a complete glossary of all Permissions can be found later in this article). Click "Next" to proceed: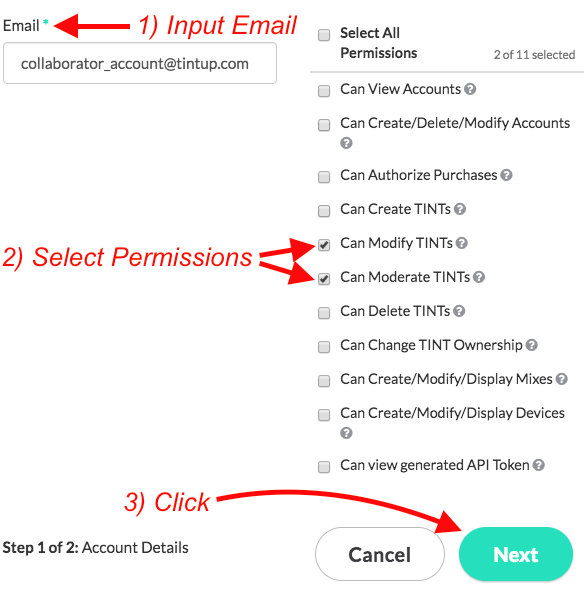 4) Select the TINT(s) that you'd like the Collaborator to have access to. You can also choose to allow the Collaborator to access all TINTs that are created on your account in the future (this saves you the step of assigning TINT access every time a new TINT is created). Then click "Done":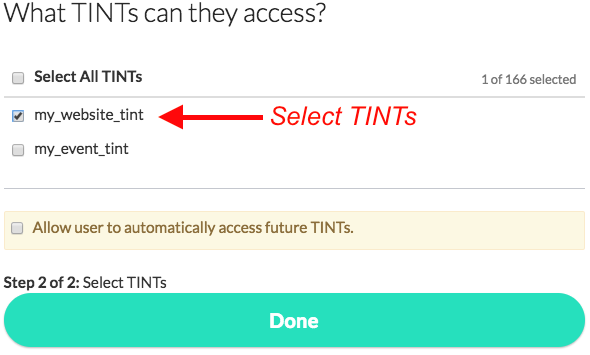 Your new Collaborator account has been created and an invite has been emailed.
---
Managing Collaborator Accounts
You can edit permissions and TINTs access for existing Collaborator accounts at any time by clicking the pencil icon.
Clicking the trash

icon will

delete

the Collaborator account.

As an Owner, you may transfer ownership

 to a Collaborator account by clicking the

arrow

icon.

If a Collaborator did not receive an invite email, or the signup token has expired from their invite email, you may resend an invite

by clicking the

envelope

icon.
---
Permissions Glossary
Can View Accounts (Can view the Collaborators tab)
Can Create/Delete/Modify Accounts (Can add, delete, and modify accounts in the Collaborators tab)
Can Make Purchases and View Billing (Can make purchases, update the card on file, and view the Payment tab)
Can Create TINTs
Can Modify TINTs (Can add new connections, delete existing connections, and change personalization settings on TINTs)
Can Moderate TINTs (Can make changes to post visibility and Automoderation rules for TINTs)
Can Delete TINTs
Can Change TINT Ownership (Can assign and update TINTs Access for other Collaborator accounts)
Can Create/Modify/Dispay Mixes (Can create and edit TINTmix)
Can Create/Modify/Display Devices (Can manage devices and assign content to them)
Can view generated API Token (Can view your account's API key)
If you run into any issues managing your Collaborator accounts please contact Technical Support at support@tintup.com.